Concrete is the most familiar building element. The densest and strongest concrete is that in which cement paste fills the voids with the sand and the resulting mortar fills the voids in the coarse aggregate. Every grain of sand should be entirely coated with cement. Before the invention of the mixing machine, the entire mixing process used to be done by hand, shovel, shallow box. But now due to the high demand in construction, different types of mechanical procedures and machines are used for mixing. The concrete mixer was invented by Gebhardt Jaeger who was an industrialist at Columbus, Ohio.
In this article definitions and different types of concrete mixer machines are discussed fully.
What is a Concrete Mixer?
A concrete mixer is a machine for making a homogeneous combination of cement, aggregate (sand or gravel), admixtures, and water. The machine setup is composed of mixing drums, feeding devices, unloading mechanisms, water supply systems, prime mover, and transmission mechanisms. The machine basically promotes the collision between particles and the development of dispersion. Usually, this machine has three basic units: Feeding unit, Mixing unit, Discharge Unit.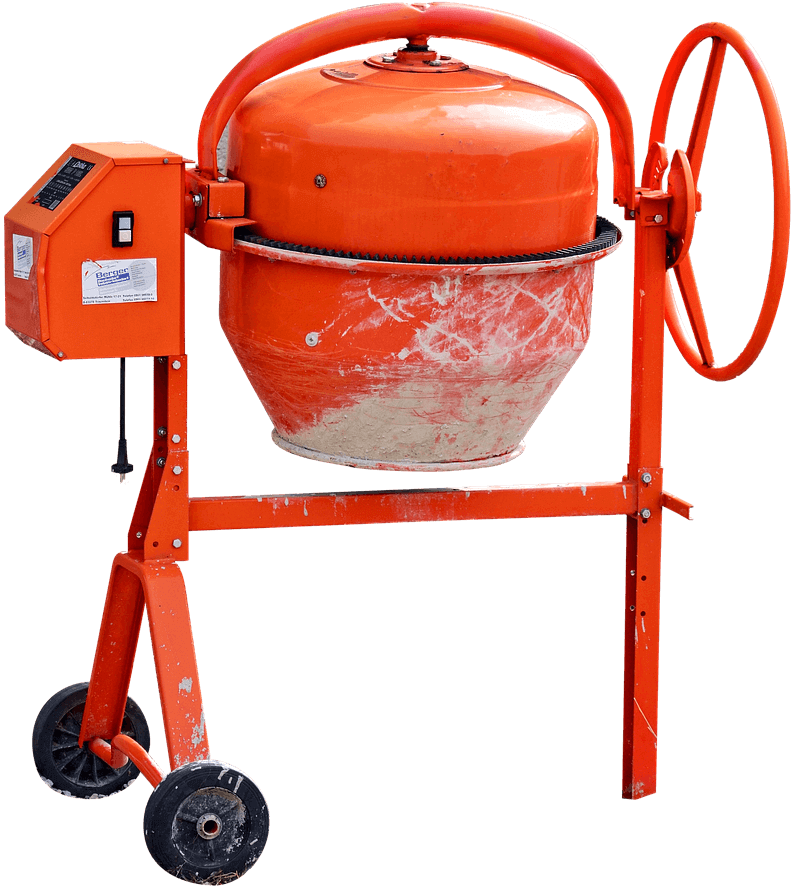 Types of Concrete Mixers
As technology has changed, the basic mixer design has also evolved. Concrete mixers can be divided into general mixers and forced mixers. Nowadays, twin shaft mixers, vertical axis mixers, and drum mixers are the most commonly used mixing machines.
The followings are the types of concrete mixing machines.
A brief description of these types of mixture machines is given below.
Batch Concrete Mixer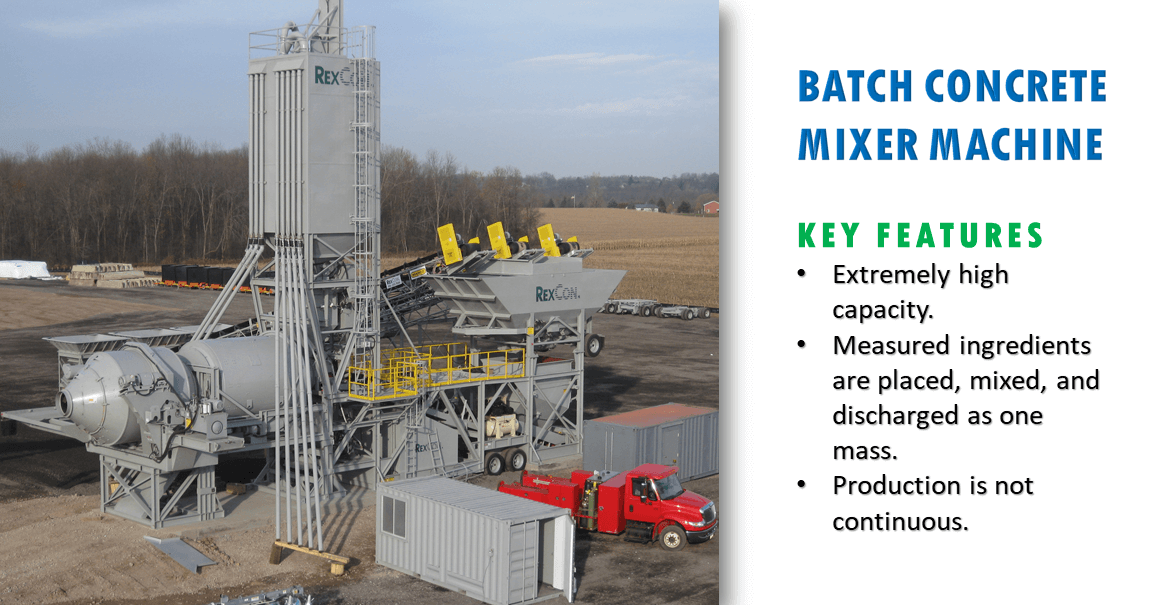 Batch mixers are those into which measured ingredients are placed, mixed, and discharged as one mass. This is in contrast to a continuous mixer, where materials are fed into the device continually, creating an ongoing supply of the product.
Features:
Has extremely high capacity (batches of up to 1 thousand gallons or 3785 liters).
Consists of drum mixers, pan mixers, and open-top mixers.
Many types of batch mixers (e.g. Gravity, revolving drum, cube, etc).
Gravity mixers are made stationary.
Revolving mixers contain shelves and projections on the inside and drum is revolved to mix the materials.
Continuous Concrete Mixer
Continuous mixers are those into which ingredients are fed continuously and discharge occurs as a steady stream. The loading of materials is done continuously by screw feeders.
Features:
Productivity higher is than the batch mixer.
Material proportion and mixing time are difficult to control.
Feeding, mixing, and discharging processes go on in a longer mixing drum continuously.
Self Loading Concrete Mixer
Self-loading mixers are those which can automatically produce and transport concrete on-site.
Features:
Efficient as they can load them themselves (Don't need any Auxiliary equipment!).
Useful for small and narrow construction.
Four-wheels drove, low pressures and wide tires, swing rear axles (provides good off-road performance).
Motor and hydraulic system and electronic weighing system.
Consists of a rotating drum mounted on an operator-driven cab-mounted chassis frame fitted with a loading bucket.
This type of mixer is best suited for sites where concrete batching plants are not available.
Compulsory Concrete Mixer
Features:
Parts of twin-shaft compulsory mixer: Mixing device, reducer, shaft-end sealing, electric lubricating oil pump, discharging system.
Equipped with floating oil sealing ring at each end axis.
Full automatic system.
Eccentric double seal design in hopper gate.
The disc vertical axis forced concrete mixer can be divided into two types: Turboprop type and Planetary type.
Rotary or Non-Tilting Type Concrete Mixer
Rotary mixers are not allowed to tilt but use drum rotation about its horizontal axis for discharging.
Features:
The drum is opened at two ends where one end is for pouring and another end is for discharge.
Rapid discharge is not possible which may result in the segregation of concrete sometimes.
Tilting Type Mixer
The tilting type mixer is a mixer with the rotating drum to discharge the concrete.
Features:
Mixes the ingredients while forward rotating and discharge downwards rapidly using gravity reversing the mixer drum.
Used to blend plastic and semi-dry concrete.
Low noise, stable operation, and convenient movement.
Mixing efficiency depends on the shape of the drum, angle of the drum, size, and angle of blades.
Forced Concrete Mixers
Forced mixers are specially for hard concrete, lightweight aggregate, and liquid concrete. This is specially used in the concrete batching plant. The machine is specially designed to blend gravel and resin evenly and consistently.
Features :
Have stirring blades equipped on the spindle arms.
The disc vertical axis forced mixer can be divided into two types: Turboprop type and Planetary type.
Self Propelled Concrete Mixers
Features:
Have stirring blades ranged vertically on the inside wall of the mixing drum.
The drum rotates horizontally when fed materials are lifted and materials fall down due to gravity.
Pear-Shaped Mixer
Features:
This is a self-loading concrete mixer.
Drum Shaped Mixer
Features:
This is a self-loading concrete mixer.
Cone Shaped Mixer
Features:
This a self-loading concrete mixer.
Vertical Shaft Pan Mixer
Features:
This is a Compulsory Concrete Mixer.
It is not only applied in common or precast concrete but also in high-performance concrete.
Consists of the frame, stirring cover, follow-up paddle, cylinder, lifting slider mechanism, electric part, etc.
There is a circular pan where concrete is mixed and blades arranged in star shape inside the pan.
Horizontal Shaft Mixer
Features:
This is a Compulsory Concrete Mixer.
Due to its horizontal design, the paddle mixer can easily mix a series of a wide range of aggregates especially the massive ones to create a more uniform slurry.
Well suited for lightweight as well as dry hard concrete.
References:
https://science.howstuffworks.com/transport/engines-equipment/cement-mixer1.htm
A study of Concrete Mixers by Charles Vernon Tyler (University of Illinois)