An ever-evolving world needs constantly developing construction ways. In the present world, concrete is one of the most widely used construction materials. This can be due not alone to the large choice of applications that it offers, however, besides, its behavior, strength, affordability, durability, and flexibility play vital roles. Therefore, constructing-building works have faith in concrete as a secure, strong, and simple object. It is utilized in all sorts of buildings (from residential to multi-story workplace blocks) and infrastructure comes (roads, bridges, etc). Concrete is used for the development of foundations, columns, beams, slabs, and different load-bearing components. In this article, we are going to cover the following topics:
Composition of Basic Concrete Mix
So, then let us dig into the details:
What is Concrete?
Concrete Definition: Concrete, an artificial stone-like mass, is the composite material that is created by mixing binding material (cement or lime) along with the aggregate (sand, gravel, stone, brick chips, etc.), water, admixtures, etc in specific proportions. The strength and quality are dependent on the mixing proportions.
The formula for producing concrete from its ingredients can be presented in the following equation:
Concrete = Binding Material + Fine & Coarse Aggregate + Water + Admixture (optional)
Concrete is a very necessary and useful material for construction work. Once all the ingredients -cement, aggregate, and water unit of measurement mixed inside the required proportions, the cement and water begin a reaction with one another to bind themselves into a hardened mass. This hardens the rock-like mass in the concrete.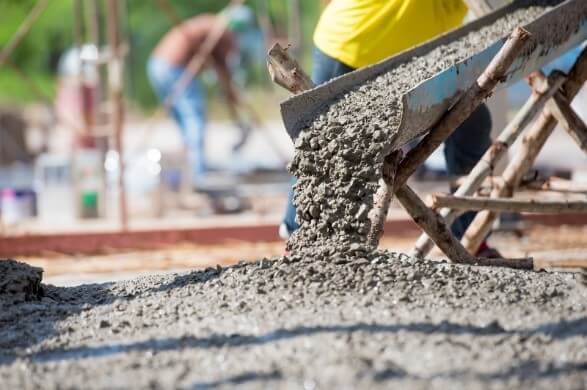 Concrete is powerful, easy to create, and can be formed into varied shapes and sizes. Besides that, it is reasonable, low cost, and instantly mixed. It is designed to allow reliable and high-quality fast-track construction. Structures designed with the concrete unit of measurement are plenty durable and should be designed to face up to earthquakes, hurricanes, typhoons, and tornadoes. This is an incredible advancement. With all the scientific advances there are in this world, there still has not been a way of preventing nature's injury.
Composition of Basic Concrete Mix
If we evaluate the concrete composition to see what concrete is made of, we can see there are four basic ingredients within the concrete material mix:
Binding materials like cement or lime
Aggregates or Inert Materials

Fine aggregate (sand)
Coarse aggregate (stone chips, brick chips)

Water
Admixture (e.g. Pozzolana)
A brief description of the concrete ingredients is given below.
Binding Materials
Binding material is the main element of a concrete material mix. Cement is the most commonly used binding material. Lime could also be used. When water is mixed with the cement, a paste is created that coats the aggregates within the mix. The paste hardens, binds the aggregates, and forms a stone-like substance.
Aggregates
Sand is a fine mixture. Gravel or crushed stone is the coarse mixture in most mixes.
Water
Water is required to with chemicals react with the cement (hydration) and to supply workability with the concrete. The number of water combined in pounds compared with the number of cement is named the water/cement quantitative relation. The lower the w/c quantitative relation, the stronger the concrete. (Higher strength, less permeability)
Types of Concrete Mix
Concrete is employed for various projects starting from little homemade comes to large subject field buildings and structures. It is used for sidewalks, basements, floors, walls, and pillars at the side of several alternative uses. Many sorts of concrete are utilized in the development works.
Based on the variations in concrete materials and purposes, concrete can be classified into three basic categories-
Lime Concrete
Cement Concrete
Reinforced Cement Concretes
There are four concrete sorts to settle on from counting on the work being done. Such as-
Dry Ready Mix
Ready Mix
Bulk Dry Materials
Transit Mix
There are other various types of concrete for different applications that are created by changing the proportions of the main ingredients. Such as:
Regular Concrete
High-strength Concrete
Stamped Concrete
High-Performance Concrete
Self-consolidating Concretes
Vacuum Concrete
Shotcrete
Roller-Compacted Concrete
Glass Concrete
Asphalt Concrete
Rapid Strength Concrete
Polymer Concrete
Limecrete
Light-Transmitting Concrete
Brief Descriptions of all these 21 types of concrete are discussed below:
Lime Concrete
Lime concrete uses Lime as the binding material. Lime is usually mixed with surki and khoa or stones in the proportion 1:2:5 unless otherwise specified. The khoa or stones are soaked in water before mixing. Lime concrete is used mainly in foundation and terrace roofing.
Advantages of Lime Concrete
Lime concrete is cheaper than cement concrete.
Lime concrete is more workable than cement concrete.
Lime concrete has a lower heat of hydration, which makes it suitable for mass concrete works.
Lime concrete has good resistance to fire.
Lime concrete has good resistance to sulfate attack.
Disadvantages of Lime Concrete
Lime concrete has a lower strength than cement concrete.
Lime concrete is not as durable as cement concrete.
Lime concrete is susceptible to attack by frost.
Cement Concrete
Most engineering construction uses cement concrete composites as the main building material. It consists of cement, sand, brick chips, or stone chips of the required size. The usual proportion is 1:2:4 or 1:3:6. After mixing the required amounts of concrete materials, the mix is cured with water for 28 days for proper strength building.
Cement concrete is a versatile construction material with a wide range of applications. It can be used in structural applications such as beams, columns, slabs, and foundations. It can also be used in non-structural applications such as paving, curbing, and landscaping. Cement concrete is also a popular choice for precast applications such as pipes, paving stones, and sewer systems.
The main advantages of cement concrete are its strength, durability, and fire resistance. It is also relatively low maintenance and can be easily repaired if damaged. However, cement concrete is a relatively heavy material and can be difficult to work with. It is also susceptible to cracking and can be damaged by extreme weather conditions.
Reinforced Cement Concretes
For enhancing the tensile strength of concrete, steel reinforcements are added. Sometimes, RCC is prestressed under compression to eliminate or reduce tensile stresses. The resulting concrete is known as Prestressed Concrete.
The word 'Reinforced' means 'strengthened' or 'supported'. Reinforced Cement Concrete, therefore, is a composite material consisting of concrete and steel reinforcements.
The steel reinforcements used in RCC can be in the form of rods, bars, wires, meshes, etc. The concrete is cast around these steel reinforcement bars or rods to form the desired shape. The steel reinforcement bars are placed in such a way that they provide enough support to the concrete against the expected loads.
The steel reinforcement bars are placed in such a way that they provide enough support to the concrete against the expected loads.
Dry Ready Mix Concrete
This is the combination that may be found at most home improvement and hardware stores. It comes in baggage typically starting from sixty to eighty pounds. Dry ready mix is simple to combine and this is often the combination that almost all homemade comes would require. The tools needed for the mixture are a bucket or cart, shovel or hoe, trowel, and a measured quantity of water.
Ready Mix Concrete
The distinction between dry ready-mix and ready-mix concrete is that the water is already supplementary to ready combine. This concrete comes pre-mixed and is for larger homemade comes or for people who do not need to combine their own concrete. It is typically brought in an exceedingly little trailer, typically with an intermixture drum connected to stay it dampish and mixed. The ready combine is usually costlier and might be troublesome to search out. It additionally should be used quickly as an alternative it will set while not unfolding properly.
Bulk Dry Materials
It is price effective to purchase dry materials in bulk. This may let the project be custom-built to the particular wants and usage of the concrete. The drawback of shopping in bulk is that there will be much space for the materials to be kept before getting used. The materials will over probably be delivered to the positioning.
Transit Mix Concrete
This is the mix that almost all cast-in-place concrete comes can use. it is typically trucked in using concrete trucks that have a massive drum that keeps the concrete from setting up while in transit. It permits for one continuous pour so fewer seams and stronger concrete overall. For big comes, transit combine is a far additional value effective than getting bulk materials or ready-mix since in each those the workforce to combine the concrete would get to be patterned into the value.
Regular Concrete
The most common type used is regular concrete which is referred to as traditional weight concrete or traditional strength concrete. This pertains to the concrete that is promptly on the market within the retailer's marketplace for personal and residential usage. This includes usage directions that are written within the packaging of the product. It utilizes sand and different materials to function as aggregates and is consolidated in temporary vessels.
High-strength Concrete
High-strength concrete combined possesses compressive strength that is over six thousand pounds per area unit. This can be processed by lowering the water-cement quantitative relation to a minimum of 0.35 or lower. The low water-cement quantitative relation makes this sort of cementless feasible. to combat this weakness, superplasticizers are other than the present concrete combine.
Stamped Concrete
Stamped concrete is a subject area concrete wherever realistic patterns almost like natural stones, granites, and tiles will be obtained by inserting the impression of skilled stamping pads. This stamping is applied to the concrete once it is in its plastic condition. totally different coloring stains and texture work can finally provide an end that's terribly almost like costlier natural stones. A high aesthetic look will be obtained from a sealed end economically. This is often utilized in the development of driveways, interior floors, and patios.
High-Performance Concrete
High-performance concrete refers to a freshly developed concrete combine that has properties that are a notch higher compared to regular concrete mixes. This includes increased strength, durability, and workability, simplicity of usage, compaction while not segregation, long-run mechanical properties, porosity, density, toughness, and volume stability. Air-entrained agents may be utilized to customize this concrete combine for severe environments.
Read More: Advantages of High-Performance Concrete
Self-Consolidating Concrete
The concrete combined once placed can compact by its own weight and is considered self-consolidated concrete. No vibration should be provided for an equivalent individually. This combination has higher workability. The slumping price is going to be between 650 and 750. This concrete because of its higher workability is named flowing concrete. In the areas wherever there is thick reinforcement, self – consolidating concrete works best.
Vacuum Concretes
Concrete with a water content of quite the desired amount is poured into the formwork. The surplus water is then removed out with the assistance of an air pump while not looking forward to the concrete to endure setting. Thus, the concrete structure or the platform is going to be able to use earlier in comparison with traditional construction techniques. These concretes can attain their 28 days compressive strength within an amount of 10 days and therefore the crushing strength of this structure is 25 you bigger compared with the standard concrete sorts. To learn more about vacuum concrete read- Vacuum Concrete | Definition, Procedure and Advantages
Shotcrete
Shotcreting refers to a method within which compressed air forces mortar or concrete through a tube and taps onto a surface at a high speed and forms structural or non-structural parts of buildings. Shotcrete is currently applied to the wet-mix method and has gained universal acceptance in several countries. In wet-mix application cement, aggregate, admixture, and water are mixed along before being wired through a hose and atmospherically designed. On the opposite hand, in dry-mix applications cement, aggregate, and admixture are mixed along, and sent pneumatically through a tube so, at the tap via a water ring, water is injected equally throughout the combination because it is being designed.
Roller-Compacted Concrete
This type of concrete has been placed and compacted with the assistance of earthmoving instrumentality like serious rollers. This concrete is principally utilized in excavation and filling wants. These concretes have cement content in lesser quantity and are stuffed for the realm necessary. once compaction, these concretes give high density and eventually cure into a powerful monolithic block.
Glass Concrete
The recycled glass may be used as aggregates in concrete. Thus, we tend to get concrete of recent times, glass concrete. This concrete can increase the aesthetic appeal of concrete. They can give long strength and higher thermal insulation.
The use of recycled glass in concrete has become more popular in recent years. It has been used as a decorative aggregate, to provide a sparkle effect in concrete countertops and flooring. It is also used as a partial replacement for traditional aggregates in concrete.
There are a number of benefits to using recycled glass in concrete. It is a sustainable material that can help reduce the demand for traditional aggregates. It is also lighter than traditional aggregates, which can reduce the overall weight of concrete. Additionally, it can provide a unique look to concrete.
However, there are a few challenges to using recycled glass in concrete. It is a difficult material to work with and can be difficult to get a consistent color. Additionally, it is more expensive than traditional aggregates.
Asphalt Concrete
Asphalt concrete may be a material, the mixture of aggregates and asphalts ordinarily accustomed surface roads, parking tons, and airports, yet because of the core of mound dams. Asphalt concrete is known as asphalt, blacktop, or pavement and tarmac or bitumen, macadam, or rolled asphalt in other countries.
Rapid Strength Concrete
As the name implies these concretes can acquire strength within a few hours once it's manufactured. Therefore, the formwork removal is created simply and the building construction is roofed quickly. These have a widespread application within road repairs, as they'll be reused once in some hours.
Polymer Concrete
In polymer concrete, the aggregates are restrained with the polymer rather than cement. The assembly of polymer concrete can facilitate the reduction of the volume of voids within the mixture. This may cut back the quantity of polymer that is necessary to bind the aggregates used. Hence, the aggregates are ranked and mixed consequently to attain minimum void. This kind of concrete has totally different classes:
Polymer Impregnated Concrete
Polymer cement concrete
Partially Impregnated
Limecrete
The cement is replaced by lime during this concrete kind. The most application of this product is on floors, domes, likewise as vaults. These not unlike cement have several environmental and health advantages. These products are renewable and simply clean.
Advantages of Limecrete
Limecrete is a more sustainable product than cement since it is made from renewable materials.
Limecrete is also much easier to clean than cement since it does not absorb dirt and stains as easily.
Limecrete is also much cooler than cement, making it more comfortable to walk on in hot weather.
Disadvantages of Limecrete
Limecrete is not as strong as cement, so it is not suitable for all applications.
Limecrete can also be more expensive than cement since it is not as widely available.
Light-Transmitting Concrete
Concrete that has a density lesser than 1920kg/m3 is classified as lightweight concrete. The utilization of lightweight aggregates in a concrete style can provide us with lightweight aggregates. Aggregates are the vital part that contributes to the density of the concrete. The samples of lightweight aggregates are stone, perlites, and scoria. The lightweight concrete is applied for the protection of steel structures and is used for the development of long-span bridge decks. These are used for the development of the building blocks.
To conclude, concrete is the basic need for building or other constructional works. Thus, the knowledge of different types of concrete should use wisely by consumers to take advantage of its properties for their construction engagements.